In case you haven't heard, the drum coffee table has made a massive comeback in the world of interior design! They are all the rage lately and for a very good reason!
Since a drum coffee table has a cylindrical drum shape, it fits well into many different spaces within a home, office, waiting rooms, and commercial spaces. We're all used to seeing straight lines and rectangular forms within our spaces, so it's super refreshing to see a drum coffee table as it adds a different dimension to your living room furniture.
They also come in different shapes, and sizes, and can be made from a variety of materials. And the best part is, you can get The Top Ranking Drum Coffee Table Sets here - at Ultibest!
Some people might think that they are only suited for modern or contemporary spaces, but that is not true! Drum coffee tables can fit in any space, whether it is traditional or eclectic. They're a transitional piece that can suit many styles! In this blog post, we will discuss the different types of drum coffee tables available on the market today and the trends they follow!
We'll include their specifications, links to where you can find them, and how they can spruce up your space!
DRUM COFFEE TABLE TRENDS SUMMARY CHART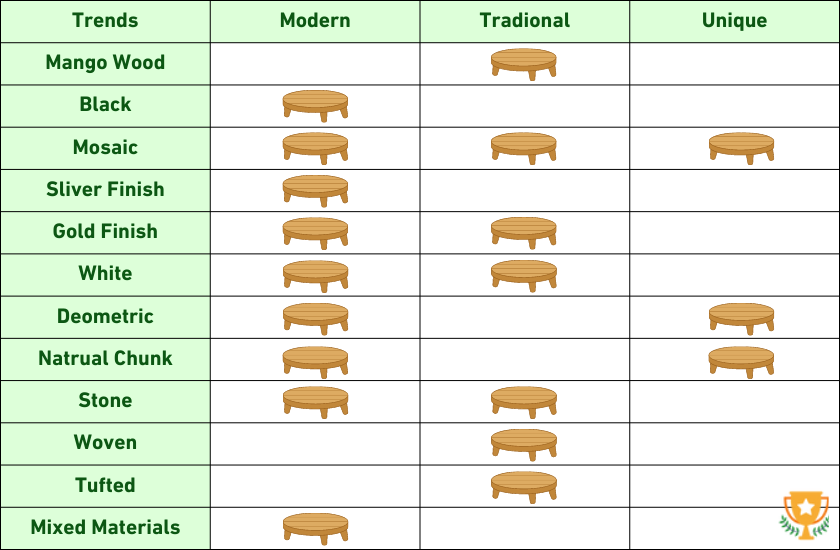 A beautifully crafted and sustainably manufactured wood, Mango Wood drum tables, like this option from Steelside, are a brilliant choice for those wanting a natural wood finish on their coffee table whilst still being environmentally conscious.
Mango fruits are a thriving industry throughout tropical and subtropical climates, making the solid wood of the trees a highly sustainable resource due to its fruits cultivation, use of the wood after they produce fruit prevents waste from being made.
Apart from its sustainability, mango wood also has a beautiful finish that suits many styles and colors within homes, making it the perfect furniture wood for interiors where you can enjoy a relaxing cup of herbal tea in your living room, just remember to use a coaster! We recommend trying The Best Herbal Tea Samples.
Black coffee tables, much like this black metallic piece from Fernando, are a great choice for many as it allows one to showcase their decor items.
With a black colorway, objects placed upon a black piece of furniture stand out more as they contrast against the black table.
So if you're looking to show off your favorite vase or coffee table book, a black coffee table could be your best option!
This type of coffee table, like this stunning pick from Amazon, is becoming increasingly popular as people want to make a home improvement by adding a unique touch to their homes and living room and office furniture.
Mosaic patterns can be created using many different materials such as glass, tile, stone, metal, solid wood, or even coconut shells as seen above.
A Linon Gold Capiz Mosaic Kiro Coffee Table is the perfect option for those wanting to make bold statements in their homes by adding texture, shape, and dimension to their space! Not only that but the circular nature of a drum coffee table compliments the square shape of the mosaic, making this option of drum coffee tables a lovely aesthetic furniture piece.
For those who prefer a more contemporary look, a Deco 79 Contemporary Aluminum Coffee Table, like the above pick from Amazon, is perfect! The sleek metal finish and simple shape of this coffee table will add a touch of sophistication to any room.
A great way to add dimension to a room, the finish of an aluminum coffee table can really open up a space as it can act like mirrors by reflecting light from nearby lamps, windows, and ceiling lights, naturally adding life to a space whilst brightening up the surrounding area, making the room seem larger, creating an instant home improvement.
This trendy piece is great for those wanting to add a spark to their space. Incorporating a unique flair with any Top Metal Drum Coffee Tables, rather than wood, really does take an interior to the next level. They're also great for outside areas with outdoor seating and any of The Best Outdoor Pillows to match!
The perfect coffee table for those who love to entertain, a Modernesque Rotating Coffee Table, such as the above three-layered option from Moe's Home Collection, can truly be a show stopper.
Having several levels on a coffee table to decorate and layer makes it perfect for holding books, magazines, decorative objects, and all your guest's belongings.
This option is also amazing for movie nights with loads of popcorn and snacks close by, or for those living in apartments or small spaces, wanting more storage or surface area to eat if they don't have the room for a dining area!
The swivel drum coffee table can be a brilliant and convenient pick for many! We recommend choosing a more modern, simple, and streamlined design, as its functionality and feature is the show's true star.
Let's be honest, the color gold hints at a luxury lifestyle when it's done right, and the same goes for golden furniture pieces, such as gold drum coffee tables, like this stunner.
These are a great way to make a statement in your home and can easily be dressed up or down depending on the occasion.
We suggest keeping the rest of your furniture and décor more neutral so that your coffee table can really stand out and become the focal point in the room.
Another popular color for coffee tables (and furniture in general) is white.
A white coffee table, like the Bernhardt piece shown above, can really help to brighten up a space and make it feel more open, airy, and welcoming.
They also have a more versatile look so they can be easily incorporated into any type of décor or style. Just be careful of making marks and scuffs as white coffee tables are prone to show wear and tear.
Geometric Drum Coffee Tables can come in all shapes and sizes, but one of the most unique trends right now is geometric-shaped drum coffee tables, like this unique piece.
This can include anything from a hexagon to a more abstract shape and intricate design. These are often made with glass or acrylic for a modern look and feel but can also be made from solid wood or stone.
If you want something that will really add a distinctive feel and futuristic look to your space, add a geometric piece!
If you're wanting something with a more rustic look and feel, drum coffee tables are also being made with more natural and raw materials.
This includes everything from wood to stone. They often also have an organic shape and a natural finish and can include chunks of raw solid wood, polished and configured together to make a final product, in this case, a coffee table, like the one above from Phillips Collection.
This type of Natural Chunk Drum Coffee Table is perfect for adding a bit of texture to your space and an interesting feature piece as having a table with live solid wood edges can really elevate any space.
Another popular raw material for drum coffee tables is stone, seen in the river stone table by Amazon above.
This can range from a marble top with metallic legs, a stone slab over a solid wood table frame, to an all-stone table. The great thing about stone coffee tables is that it can really add a luxe element to your space without being too over the top.
It's also perfect for those who like fewer decor pieces and accessories in their spaces, as a stone piece can genuinely be a stand-alone piece and still look beautiful without any added accessories.
The woven rope is another great material for a coffee table as it can add both texture and interest to your space.
A woven rope coffee table, like the woven drum table from Four Hands, can come in many different styles from a more modern look with clean lines to a more boho feel with intricate patterns. The rope is woven over a solid wood frame to create a beautiful furniture piece.
No matter what your style, there's definitely a woven piece that could be a great addition to any space, and a woven rope coffee table could be that perfect piece for you!
Another great, more classic option. A tufted coffee table is a great way to add some glamour to your space.
A tufted coffee table can come in many different styles and materials, but they all have one thing in common, the button tufting detail, as seen above in the tufted table from Amazon.
This tufted feature is a sure-fire way to add a regal touch to a home and can also double as another seat during parties and events as the tufted cushion is super comfy to sit on!
This type of coffee table can range from modern styles to more traditional fabrics used in living room furniture.
Mixed material coffee tables are a great way to add some dimension and depth to your space, like this one from Foundstone!
This type of coffee table usually features a wood base with a metal or glass top or a metallic base with a wooden tabletop.
The different materials can really help to tie in the different elements of your space and make it feel more cohesive.
Mixed material coffee tables are also a great choice for those who want to incorporate metal pieces but don't want the top corners of the table to be made of metal which can often cause injuries to kids running around the table and adults walking next to the table edges.
Instead, a mixed-material coffee table with a wooden tabletop provides a softer edge, making for a brilliant and safe home improvement for those with kids.
And there you have it, folks! For all you interior design lovers and furniture collectors alike, we hope this blog post has helped guide you on your decision on purchasing your next drum coffee table.
Would you prefer a more traditional, solid wood drum coffee table or a more modern, metallic drum coffee table? Let us know in the comments below! We would love to hear your thoughts! Thanks for reading!
Q&A
[sc_fs_multi_faq headline-0="h2" question-0="What drum coffee table suits a modern interior?" answer-0="Mango wood coffee table, Black coffee table, Mosaic coffee table, Silver finished aluminum coffee table, Swivel coffee table, Gold finished coffee table, White drum coffee table, Geometric coffee table, Stone coffee table, and Mixed material table." image-0="" headline-1="h2" question-1="What drum coffee table suits a traditional interior?" answer-1="Mango wood coffee table, Mosaic coffee table, Gold finished coffee table, Natural chunk coffee table, Woven rope coffee table, and Tufted coffee table." image-1="" headline-2="h2" question-2="What drum coffee table includes unique features?" answer-2="Mosaic coffee table, Silver finished aluminum coffee table, Swivel coffee table, and Natural chunk coffee table. " image-2="" count="3" html="true" css_class=""]