When it comes to outdoor events, a pop up Gazebo is a perfect solution to cater to your special occasions under any circumstances. They are easy to set up and provide shade, protection, and shelter from the outdoor elements.
Nowadays, there are many different types of Gazebos available on the market, so it can be difficult to know which one is right for you. From different color variations to features depending on the type of gazebo you want.
In this blog post, we will discuss the best Gazebos available to shop and purchase today and each of their specifications so that you can pick the best pop up gazebo for your needs!
The Best Pop Up Gazebos Summary Table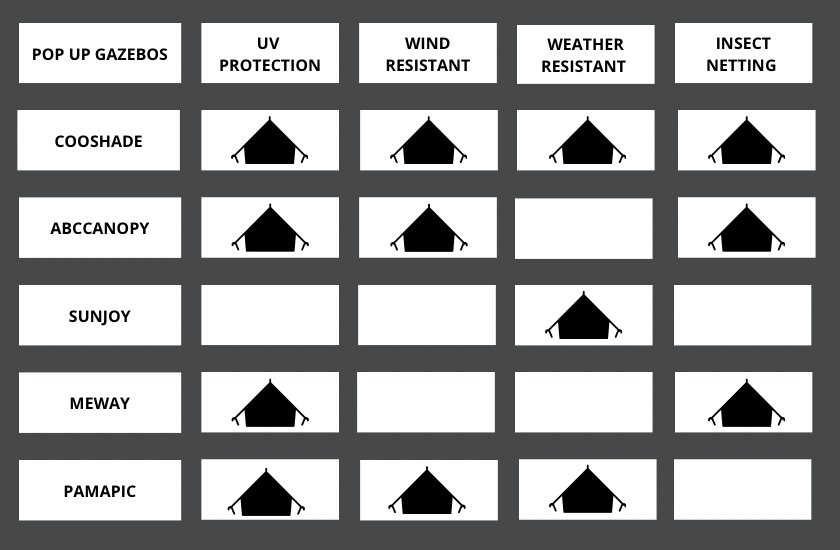 Includes This Cooshade Instant Outdoor Pop Up Gazebo Tent by Cooshade is a great canopy option for those wanting an easy to use instant gazebo that also comes with built in mosquito netting walls and UV protection! The perfect pick for those wanting to protect themselves from any outdoor critters and the sun's harsh rays.
The instantly pitched up canopy comes in an 11x11ft size and a 13x13ft size and in a variety of color options, namely Beige, Khaki, and Gray. These colors are great for the outdoors as they blend in with most outdoor environments.
For even more color options for your pop up gazebo, take a look at this option from ABCCANOPY. This ABCCANOPY Pop Up Gazebo comes in a multitude of colors, such as white, gray, khaki, blue, brown and green!
Choosing the right color for you can add personality to any event you hold whilst maintaining a natural look.
This pop up gazebo also features a 13'x13' size with sun protection, wind protection, and netting for bugs. A great shelter from the outdoor elements!
If you're looking to purchase gazebos that will give you more privacy, then this Sunjoy Lambert 11x11 ft. 2-Tone Pop Up Portable Hexagon Steel Gazebo from Sunjoy may be the one for you.
This hexagon shaped canopy provides rust resistant steel frame and comes in two-toned colorways, white and black, gray and black, as well as tan and brown.
For an added amount of space and shade under your canopy gazebo, this portable choice from Sunjoy could make your backyard summer barbecues even better!
This MEWAY Upgraded Pop Up Patio Gazebo 13x13 Easy Set Up Outdoor Gazebo Tent option is a great choice because it's easy to set up and has a large square footage, having the ability to fit a 6-8 person table and chair set or for 15 people to move freely underneath.
The tent also comes with a strong and ultra durable steel frame and a double air vent design, improving the air quality and flow when the gazebo is closed.
For color options, this particular choice comes in Gray, Brown, Green, Navy and Red. The perfect selection for those who are particular about their gazebo design .
This Pamapic 12 x 12 Foot Camping Portable Outdoor Pop-up Gazebo from Pamapic is a great choice for those who are looking for gazebos that can be easily used and maintained.
The Gazebo comes with a carrying bag which makes it easy to transport, access, and set up with color choices such as Gray, Blue, Brown, and Green.
The outdoor gazebo is also made with high quality polyester fabric that is water resistant and UV protected so you can use it under any weather conditions, whether in the rain or sun.
The material is also flame-retardant for an added safety precaution, so you can relax and enjoy your time outdoors without worry!
Conclusion
And there you have it! Our top picks for the best pop up gazebos! From sizing and colors to special attributes and accessories, we hope our curated list can assist you whilst you shop for the best gazebos. Do you prefer gazebos with a steel frame and waterproof material or canopies that let in more of a breeze? Let us know in the comments below!
Questions And Answers:
[sc_fs_multi_faq headline-0="h2" question-0="How to decorate a canopy?" answer-0="In order to decorate your new outdoor shaded area, you have to think about the event or socialising that will take place under the canopy. For example, if your eating dinner under the canopy, having an outdoor dining set would be a great addition to add to your space. In general, a seating area with outdoor pillows for guest is needed, a storage area for food and drinks, such as a cooler, and sources of light like lanterns would be perfect to add just the right of lighting and ambiance to your outdoor chill out zone." image-0="" headline-1="h2" question-1="What is the best sized gazebos for outdoors?" answer-1="Anywhere between 10 x 10 and 13 x 13 ft sizing is the best for a spacious canopy area that can accommodate a group of people, 10 x 10 being great for a smaller group, as well as being a mobile option and 13 x 13 being a wonderful option to place over any outdoor furniture in your backyard to extra shade and protection." image-1="" headline-2="h2" question-2="How are gazebos pitched?" answer-2="The gazebos we've listed above are all easily pitched as the come with built in pitching systems and manuals, however putting one of these gazebos up may require some handy work to add the right about of support to keep the canopy sturdy, we can ensure you that this selection is one of the easiest to pitch." image-2="" count="3" html="true" css_class=""]