We must admit that there are just certain things in life that bring pure joy to our hearts. For some, it's a family gathering, maybe a friend's birthday, or binge-watching the latest Netflix series, and for some of us, there's nothing better than digging into a freshly baked (or store-bought) cheesecake with Blueberry Toppings!
A fan favorite of dessert lovers all across the world is cheesecake. It's a classic sweet treat that is loved by many. If you want to learn more about the history of this mouth-watering dessert, be sure to visit Cheesecake History.
There are so many different variations of cheesecake flavors. From chocolate, caramel, or coconut to more fruity flavors such as strawberry, passion fruit, or lemon zest. There are so many options to choose from and try when it comes to a cheesecake topping. However, one of our very favorites is blueberry cheesecake.
We all know that blueberry cheesecake is a delectable dessert that can be made in many different ways, adding an amazing flavor and look to your cheesecake recipe. We have narrowed it down to our top 5 favorite methods to enjoy a blueberry flavor incorporated into your cheesecake.
In this blog post, we will explain each blueberry topping for cheesecake and why it is a great addition to your next dessert!
BEST BLUEBERRY TOPPING FOR CHEESECAKE SUMMARY TABLE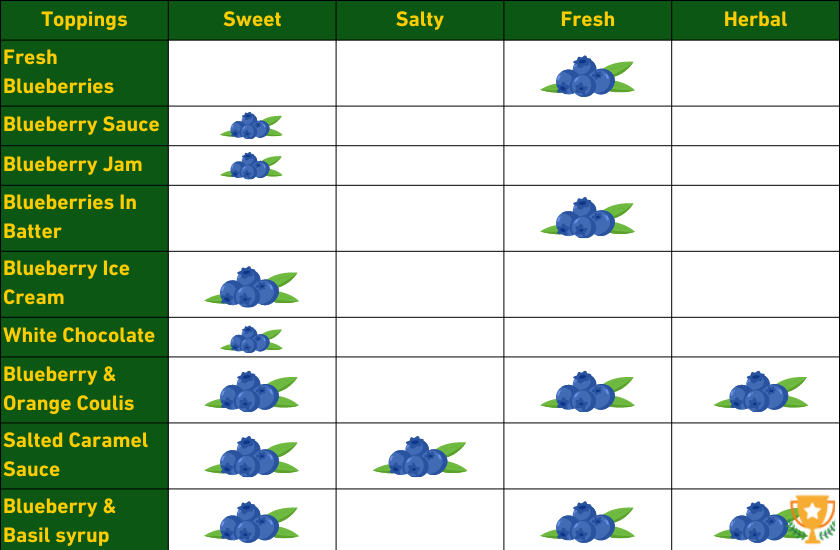 We had to start off with not only the most simple berry topping but also the most healthy. Plain old blueberries!
Why fix something that isn't broken? If you're wanting your blueberry fix with your cheesecake, fresh blueberries can be the perfect addition to sprinkle over your slice of cheesecake.
We all know that blueberries have a ton of health benefits, so why not add some to your dessert, as life is all about balance! Recent Research on the Health Benefits of Blueberriesdiscusses all their health benefits, like their anti-inflammatory and antioxidant properties. It makes them a great addition to any diet.
Homemade Blueberry Sauce
Homemade blueberry sauce is a classic topping that can be used on many desserts, not just cheesecake! The easy blueberry sauce can add more intense color and flavor whilst still maintaining the classic blueberry tartness.
This homemade blueberry sauce recipe requires:
2 cups fresh or frozen blueberries
1/3 cup of water
1/4 cup of granulated sugar
1.5 tablespoons of cornstarch
Instructions
Place freshly washed or frozen blueberries, water, and sugar into a saucepan, bring to a boil, and gently simmer on medium heat.
Add cornstarch to the mixture and mix whilst continuing to simmer on the stove. The ideal homemade blueberry sauce coats the back of a metal spoon.
And there you have it! An easy-to-make, homemade blueberry sauce recipe to coat your cheesecake with!
Blueberry Jam
Blueberry jam is another great way to add sweetness and flavor to your cheesecake. It's also really easy to make!
This recipe calls for:
4 cups of Blueberries
2 cups of granulated sugar
1.5 tablespoons of Lemon juice
(Optional) A dash of added lemon zest
Instructions
Wash your blueberries and place them in a pot with sugar and lemon juice.
Cook on medium heat until the sugar is fully dissolved.
After the sugar and lemon juice have dissolved with the fresh or frozen blueberries, bring the pot to a boil for 15 minutes.
Pour the contents of the pan into an airtight container and let it cool off.
If you're unsure where to get a good container, we recommend The Best 8 Oz Mason Jars. You can store the mixture in a cool dry place within a year of making for the best flavor and color as the sugar and lemon juice will preserve the recipe.
Spread the beautiful berry jam over the top of the cheesecake to enjoy a delicious dessert with a tart blueberry sauce and lemon flavor.
Blueberries In Cheesecake Batter
Mixing blueberries into the cheesecake batter will give both a beautiful light blueberry flavor and a decadent light purple coloring to the cake.
To add blueberries into the batter there are several options. You can either add fresh whole berries or frozen berries into the batter before baking in order to include whole berries into each slice.
Another way to add blueberries to cheesecake is to add The Top Blueberry Syrup into the cheesecake filling until it's fully incorporated into the whole batter. Baking this cheesecake will create a beautiful final product with a stunning flavor and color.
Finally, a fun way to add blueberries into the batter is to create a marbling effect in the cake. Take the blueberry sauce, purée, or jam, and slighter stir amongst the batter when it's already been placed in the pan straight before baking. You'll end up with an amazing final result.
(Pro-tip: use cheesecake recipes with graham a cracker crust and for the perfect combination with blueberries)
Blueberry Ice Cream
A secret amongst only the most experienced sweet tooths, topping your cheesecake with dollops of blueberry ice cream can add another creamy element to your cheesecake whilst still adding another flavor with the sweet but tart blueberry ice cream.
Blueberry ice cream is a great way to top off any cheesecake for anyone who loves an elevated sweet treat but needs a simple hack!
Syrup made from blueberries is incorporated into vanilla ice cream to create the perfect combination. Combining berry and vanilla ice cream creates a delectable flavor.
So get to your nearest grocery store and pick up a tub of this ice cream to top off your cheesecake!
Blueberry sauce is a great way to add sweetness and an extra layer of flavor to your cheesecake. But, for an even more indulgent treat, try taking the original easy blueberry sauce recipe and incorporating white chocolate in the berry sauce. The combination of the two flavors is heavenly and will have you going back for seconds (or thirds!).
For the white chocolate and blueberry sauce, you will need:
2 cups fresh or frozen blueberries
1/3 cup of water
1/4 cup of sugar
1.5 tablespoons of cornstarch
2 cups of white baking chocolate
Instructions
Using the previous method for the homemade blueberry sauce, incorporate your white chocolate towards the end of the cooking process by melting white baking chocolate over a pot of boiling water.
Once you've melted your chocolate to the desired consistency, mix it into your blueberry sauce.
Once incorporated, let the mixture cool and from there pour over your cheesecake.
Drizzling this over your next cheesecake dessert is a sure-fire way to elevate your sweet treat!
Blueberry And Orange Coulis
This delicious coulis is an orange and blueberry sauce that is perfect for topping off any cheesecake.
It's easy to make and only requires a few ingredients, so it's perfect for anyone short on time! Plus, the combination of the two flavors is sure to please even the pickiest of eaters.
Ingredients needed:
1 cup of blueberries
1/4 cup of sugar
1/4 cup of orange juice
Instructions
Mix all ingredients into a pot and bring to a boil.
Let the mixture simmer until the desired consistency is made.
Cool off the mixture and then top off your cheesecake dessert.
It's easy to make and extremely delicious coulis!
Miso Salted Caramel With Blueberries
If your want to add that signature combination of sweet and salty flavors. Adding a miso salted caramel is a delightful way to sweeten up any dessert!
This is a Blueberry and miso salted caramel sauce. Which in our opinion, is perfect is perfect for topping off any cheesecake. The combination of the three flavors is truly heavenly!
To make this cheesecake topping you will need:
1 cup granulated sugar
6 tablespoons of unsalted butter
1/2 a cup of heavy cream
2 tablespoons of white miso
1 cup blueberries
Instructions
Melt the sugar in a small pot on medium heat until browned.
Take the sugar off the heat and add in your butter.
Whisk until combined and add in your heavy cream until eventually adding in your miso.
Let the mixture cool for a bit.
And once you're ready to coat your cheesecake, fold the whole blueberries into the mixture to top off your cheesecake!
Blueberry And Basil Syrup
This syrup is a great way to add some extra flavor to your cheesecake.
It's made with fresh blueberries and basil, so it's sure to be packed with flavor. Plus, the basil gives it a nice herbal flavor that pairs perfectly with the blueberries.
To make this syrup you will need:
2 cups of blueberries
1/2 cup of water
1 cup of cane sugar
10-15 fresh basil leaves
3 tablespoons of lemon juice
Instructions
Add all the ingredients into a medium saucepan and bring the mixture to a boil on medium heat.
Allow to simmer whilst stirring occasionally for 5-10 minutes.
Pour the mixture through a strainer and refrigerate.
Spread this syrup on your cheesecake for a uniquely divine herbal yet sweet simple syrup that will add a new dimension to your cheesecake!
And there you have it! Our top blueberry toppings for cheesecake. Cheesecake truly is a winner of a dessert and in addition to blueberries, there are other blue fruits out there that are just as delicious. If you're looking to try something new, head over to Ultiblog's article 15 Delicious Blue Fruits & Vegetables.
Do you prefer a baked cheesecake or an angel food cake? Would you rather make your own cheesecake or purchase your own from bakeries like the Cheesecake Factory? Let us know in the comments below!
Q&A
[sc_fs_multi_faq headline-0="h2" question-0="What is the easiest blueberry topping for cheesecake?" answer-0="Fresh or frozen blueberries, Blueberry ice cream and Blueberry sauce. " image-0="" headline-1="h2" question-1="What is the healthiest blueberry topping for cheesecake?" answer-1="Fresh blueberries, Blueberries in cheesecake batter and Blueberry and basil syrup. " image-1="" headline-2="h2" question-2="What is the sweetest blueberry topping for cheesecake?" answer-2="Homemade blueberry sauce, White chocolate and blueberry sauce. As well as Miso Caramel Sauce with blueberries." image-2="" count="3" html="true" css_class=""]